Pressestimmen
Spinning Melody: The Best Classical Music of the Week (The New York Times)
THAT DECISIVE MOMENT
Spinning Melody: The Best Classical Music of the Week
Our critics and reporters offer a glimpse of what's moved and delighted them over the past week. Read the rest of our classical music coverage here.
---
Crossing the Threshold: Thomas Demenga at Weill Recital Hall (Sequenza21/ – The Contemporary Classical Music Community)
In the presence of Thomas Demenga, there's no such thing as a solo concert, for one considers not only the unrepeatable coincidence of performer and instrument but also the composers whose creations bond them. Such fullness of vision was already evident in 1987, when the Swiss cellist began pairing J. S. Bach's unaccompanied cello suites with contemporary counterparts in a flight of albums for ECM New Series. The first of these viewed the Suite No. 4 through a lens crafted of Heinz Holliger's chamber pieces, thus setting precedent for a compelling traversal of deciduous and coniferous music. Two composers engaged along the way in the studio—Elliott Carter and Bernd Alois Zimmermann—tangled roots on stage with Bach's first and third suites for an April 23, 2018 recital at Weill Recital Hall in New York City.
Demenga's approach to the suites was by turns monochromatic and fiercely colorful. He elicited both suites without a score, Bach's eternal relevance as ingrained as the striations of the older cello on which he channeled it. He was careful to sand off anticipated peaks and finesse the deeper digs, lest we forget the ways in which Bach's suites dialogue with themselves, all the while maintaining an underlying spirit of the dance (especially in No. 3's foot-stomping gigue). In addition to its robust fluidity, his bow was constantly toeing, and at times joyfully crossing, the sul tasto threshold. This allowed natural harmonics and incidental whispers of the strings to bleed through as a veritable sonic fingerprint of the performance. Most impressive was his handling of each allemande, by which he stretched an indestructible suspension bridge from préludeto courante.
Between the pillars of Bach stood the statue of Zimmermann, whose 1960 Sonata for Solo Cello (originally paired with the Suite No. 2 in Demenga's 1996 album for ECM) was a highlight of the evening—not only for its technical difficulties but also for its sheer musicality. Said difficulties were rendered wondrously in Demenga's handling. The trembling with which the five-movement sonata opened revealed one mosaic of microtonal transference after another, while deft alternations of pizzicato and arco statements underscored a contrapuntal whimsy. Zimmermann's score further revealed the same multifaceted understanding of notecraft that Demenga drew out in his Bach interpretations. Carter's Figment for Solo Cello (1994), a piece written for its performer, likewise opened the concert with a strangely cohesive mélange of lyricism and punctuation. Every gesture was the start of a potential journey. As with much of Carter's late output, a feeling of inner momentum abounded. Like the arpeggiated etude of Jean-Louis Duport with which Demenga encored, it was a testament to the asymptotic nature of artistic growth.
Such proximities bolded the forward-looking reach of Bach's music as well as the foundational seeds over which Carter and Zimmermann poured their grateful waters. This reciprocation lent a sense of interconnectedness, of downright genetic heritage, to the sounds, proving that it takes more than a bow and fine muscle memory to extract the beauty therein, but a heart animating it all with genuine love by which each note is released as a messenger into the next continent of time.
 Comments Off on Crossing the Threshold: Thomas Demenga at Weill Recital Hall
Fleet, Gossamer, Charming (The New York Times)
The young Russian pianist Daniil Trifonov, who programmed two substantive and adventurous Chopin programs this week at Carnegie Hall, is both a sensitive and virtuosic interpreter of that composer. Chopin figured prominently in the event that brought Mr. Trifonov, then 20, to international attention, when he won the 2011 Arthur Rubinstein competition in Tel Aviv. Here he is during the competition playing Chopin's 12 Études (Op. 25). Listen to the sixth, in G-sharp Minor. Mr. Trifonov's playing is so fleet, gossamer and charming, you won't even notice that the piece requires pages of finger-twisting double thirds. ANTHONY TOMMASINI
"Review: A Russian Pianist Who Doesn't Play It Safe (Even With Chopin)"
One-Hand Band
The cello is a bowed instrument — except when it is not. In addition to Bach, Mr. Demenga played Elliott Carter, and Bernd Alois Zimmermann's Sonata for Solo Cello (1960) at his excellent solo evening on Monday at Weill. For considerable stretches of the Zimmermann — in the movements "Tropi" and "Spazi" ("Tropes" and "Spaces") — beginning at 6 minutes in this 2015 video from Bern, Switzerland — Mr. Demenga used only his left, fingering hand to determine not just the pitch and character of the sound, but also its rhythm and color. It almost made Bach look easy. JAMES R. OESTREICH
Calm Confidence
Weill Recital Hall, the smallest space at Carnegie Hall, is used most often these days for concerts by young artists. So I jumped at the opportunity on Monday to see the distinguished Swiss cellist Thomas Demenga there, under the auspices of the Walter W. Naumburg Foundation. (Mr. Demenga won the Naumburg Prize in 1977.) It was a rare chance to hear a musician at the top of his game in such an intimate setting, and the audience was rewarded with an elegant program juxtaposing Bach and modern music, all performed with calm confidence. I especially loved his smoky, seductive take on the second Minuet of Bach's first solo-cello suite; you can get a sense, though paler than the live version, of what he did at 1:17 on this track, part of a recent recording of all six suites on the ECM label. ZACHARY WOOLFE
A New Cycle
I join the disappointment with Lawrence Brownlee's practiced, bland "Dichterliebe." But I was also underwhelmed on Tuesday by "Cycles of My Being," and that's as a great admirer of its composer, Tyshawn Sorey. The texts, by the poet Terrance Hayes, were stiff ("could it be that you hate me because you hate yourself?") and produced stiff music: The score — for violin, cello, clarinet and piano, in addition to voice — was diffident and dreary. Mr. Sorey has done extreme elongation before, as in his evening-length collaboration with the brilliant young soprano Julia Bullock on arrangements of Josephine Baker songs. But in that larger-scale endeavor, there was a more imaginative range of colors and textures, and the super-deliberate pace provided time and space to reflect on subtexts and nuances that were lacking in "Cycles of My Being." Here's that gorgeous Baker work, either to dip into or to watch in its 90-minute entirety. ZACHARY WOOLFE
Read our interview with Mr. Sorey and Ms. Bullock about their collaboration.
sundaybaroque.org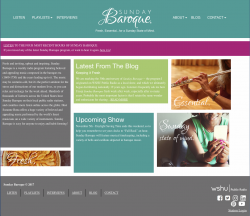 Cellist Thomas Demenga is a renowned soloist, composer and teacher, whose own teachers and mentors include acclaimed musicians such as Leonard Rose and Mstislav Rostropovich. His repertory includes a full range of historical eras and styles of interpretation and composition, and he is an advocate for New Music. He is also passionate about historical performance practice of baroque music, and a virtuoso performer of the classical and romantic repertory for cello. Suzanne speaks with him about his broad ranging career. https://sundaybaroque.org/podcasts/thomasdemenga.mp3 Listen to the interview
www.klassikakzente.de (ECM-Sounds)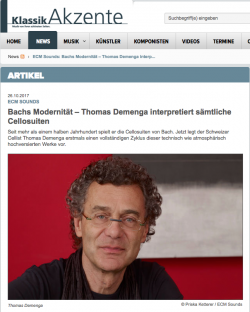 http://www.klassikakzente.de/news/klassik/article:245557/bachs-modernitaet-thomas-demenga-interpretiert-saemtliche-cellosuiten
the STRAD, May 2013
«DEMENGA HAS A REPUTATION AS SOMETHING OF A CONTEMPORARY MUSIC GURU…» (Joanne Talbot)
«Demenga on Bach» The Strad
Classicpoint
"Als international renommierter Solist, Komponist und Pädagoge gehört Thomas Demenga zu den herausragenden Cellisten und Musikerpersönlichkeiten unserer Zeit. Seit 1980 leitet er an der Musikhochschule Basel eine Ausbildungs- und Solistenklasse. Seit 2011 ist er künstlerischer Leiter der Camerata Zürich" (Classicpoint, 04.06.2012)
Fono Forum – Stern des Monats (Thomas & Patrick)
Fono Forum – Sterne des Monats (In die Tiefe)
L'HEBTO